Welcome to the ATNSOFT website
ATNSOFT products: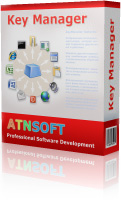 Key Manager allows you to assign the following actions to regular, sequential and long (press and hold) key presses, mouse button presses, the mouse wheel rotation, combinations with modifiers, as well as popup menu items:
• Show a popup menu which can contain submenus and actions.
• Emulate key presses or key combinations with an ability to perform reverse assignment, mouse button presses, mouse wheel rotation, sequential presses and releases of several keys (keypress macro); block keys and key combinations.
• Paste any text into an input area of any application with an option to insert current time, date and other information from a template.
• Launch any application or open a file or folder with a predefined window state: minimized, maximized, etc.
• Open a specific web page.
• Instantly create an e-mail message in the default e-mail client.
Video tutorial: How to launch menu items that have no hotkeys associated with them in different programs. More...
• Perform various actions on the active window: close; minimize; maximize; restore; hide; show; redraw; move; resize, as well as minimize and maximize all windows at the same time.
• Control your computer's power (shut down, restart, sleep, hibernate, log out), your monitor's power (disable, enable, sleep) and launch the screensaver. You can also modify your sound and volume settings (enable, disable, volume up, volume down).
The software also enables you to turn virtually any key or mouse button into a user-defined modifier and use it (similar to Alt and Ctrl) in combination with other keys, mouse buttons and modifiers.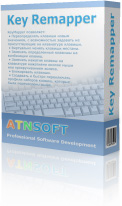 Key Remapper allows you to:
• Redefine keys, mouse button presses and the mouse wheel rotation to different values and even to non-existing keys and mouse buttons.
• Perform reverse remapping of keys and mouse buttons, i.e. virtually change their functions.
• Replace keys or mouse buttons by key or mouse button combinations with modifiers.
• Emulate double mouse button and key presses and set the necessary interval between presses (double click with a delay).
• Block (disable) keys, mouse buttons, the mouse wheel rotation and their combinations with various modifiers.
• Restrict remapping and blocking to specific programs and windows.
• Create and quickly (two clicks) switch between keyset profiles, as the program makes no changes to scan codes in the system registry and does not require the system to be restarted in order to apply changes.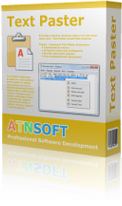 If you are tired of typing the same text multiple times, Text Paster can help you!
Text Paster is a program for instantly pasting into input fields in practically any program plain or formatted (RTF) text that has been pre-defined by you: standard phrases, greetings, generic replies, the current date and time, letter and document templates, e-mail addresses, website addresses, usernames, passwords, text fragments selected on your screen, clipboard contents, and much more.
You can also do the following with Text Paster:
• Group the text clippings you regularly paste and display them as a popup menu.
• Paste text or display the popup menu with a single key, mouse click, key combination, or by pressing and holding a pre-defined key or mouse button.
• Quickly fill out forms thanks to automatic switching between fields through emulation of the Tab key and other keys, including Enter.
• If a program does not support pasting text (for example, a console application), then text can be typed in by the program itself.
• Limit text pasting and type to certain programs or windows.